Hi Everyone,
I know that there was a bit of confusion about the footnote that indicated the $20 pricing for the Collector's Edition upgrade. It is a bit hidden, so I wanted to touch base again. The footnote shows up on the Purchase Preview screen. The text reads "Note: If you were an SOE Live attendee, you will only be charged $20 or the equivalent in local currency." The order total will still show $59.99, but when your pre-order is processed (if you're buying it on the same account you registered with for SOE Live!), you will only be charged the $20).
Here's a screenshot of where you can see this footnote: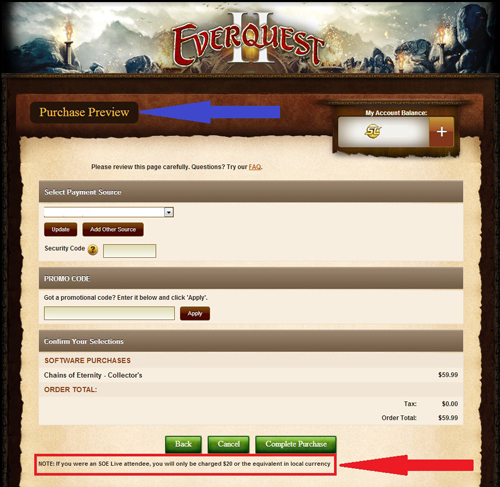 I hope you're ready for Tuesday! And if you haven't ordered your copy of Chains of Eternity, don't forget to get it this weekend!
~Dexella